Solutions
On-demand safety labeling solutions
Promote worker safety, help ensure compliance, and improve workplace efficiency with print-on-demand signage labels.
Make safety signage simple with on-demand labeling.
Help protect your workers and comply with the latest regulations – in just a few clicks. With on-demand safety labeling solutions from Brother, you get the printers, software, and supplies you need to create clear safety signage. When and where you need it. Pair a Brother printer with easy LabelSuite™ software to design and print compliant, durable labels and signs. All with lifetime1 "at your side" support and an affordable price. It's safety signage, made simple.
Compliance signs. No expertise required.
Support compliance with continuously evolving OSHA signs, ANSI labeling standards, NEC, or other safety standards and codes. Design and print fast so you can meet the standards that help keep your people safe and productive.
Intuitive software with design assistance

A huge selection of the latest symbols & templates
Hundreds of label templates.
Creative freedom. All for free.
With an intuitive interface and a massive library of safety templates and symbols, LabelSuite™ design software gives you the right mix of ease and customization. You don't have to be an expert to create labels and signs that meet your regulatory signage standards and codes. The integrated labeling assistant guides your design to get you printing fast.
Hundreds of pre-formatted templates to get you started

Thousands of symbols at your fingertips
Expect exceptional durability from every single safety label.
Choose from a wide variety of labels and ribbons that stand up to even the harshest industrial environments – in recognizable colors and formats that meet regulatory standards and codes. And with the power of thermal transfer printing, your safety signage and labels can stay unfaded and unmoved for years2.
"At your side" support. For life.1
We don't just stand behind the products. We stand behind you. Experience leading warranties, personalized customer service, and lifetime1 technical support that embodies Brother "at your side."
Up your (safety) game, not your costs.
Get an effective safety signage solution – without breaking your budget.
Affordable desktop and industrial printers with leading quality and performance

Durable supplies at competitive price points

Easy-to-use full software suite that's completely free
Versatility for your specific application
Pipe markers
Help power compliant pipe marking. A design software assistant guides you through correct fonts, sizes, directions, and colors in just a few clicks Then you can print on demand with continuous labels in colors and sizes to meet standards.
Secondary GHS labeling
Keep up with secondary GHS labeling to support worker safety. Use the software assistant to design compliant labels quickly and identify hazardous materials. Then print on demand using pre-printed labels with the right format, number of diamonds, and colors to meet standards.
Arc flash labels
Clearly and visually communicate electric arc flash hazards to help keep workers informed and protected from harm. Print on a wide variety of orange header or pre-printed label options with design software templates and symbols.
OSHA signs
Inform workers of hazards and required protective action in just clicks with a software assistant to guide you. Discover symbols, templates, and endless customization printed on colors and pre-printed headers to print OSHA-compliant labels.
5S signage
Adapt with your changing 5S environment and keep your workspace clearly marked. Design software makes it easy with thousands of symbols, ready-to-go templates, and endless customization. Quickly print on demand on a variety of colors and sizes.
And more…
Print virtually all of your labels, all from one printer. Use your label printer across multiple parts of your facility – from tool crib, pallet labels, product labels, and more.
The components of your safety labeling solution
Meet the software, supplies, and printer that work together to deliver superior on-demand safety labels and signs.
Brother TD-4750TNWBCS printer
The Brother TD-4750TNWBCS 4-inch facility and safety label printer lets you print safety labels and so much more – all on demand. Proven thermal transfer print technology and 300dpi produce high-resolution labels made to last.
Integrated cutter – lets you print and apply, no scissors needed
Drop-in design – for seamless set-up that lets you get printing quickly
Software compatibility – to integrate with top WMS, manufacturing, & other solutions
Two-year Premier Limited Warranty – for leading protection over your printer investment
Labels and ribbons
Choose from a wide variety of pre-printed, customizable labels and ribbons to meet your specific needs. Find colors and options designed to support compliance, with reliable materials that withstand the toughest jobs.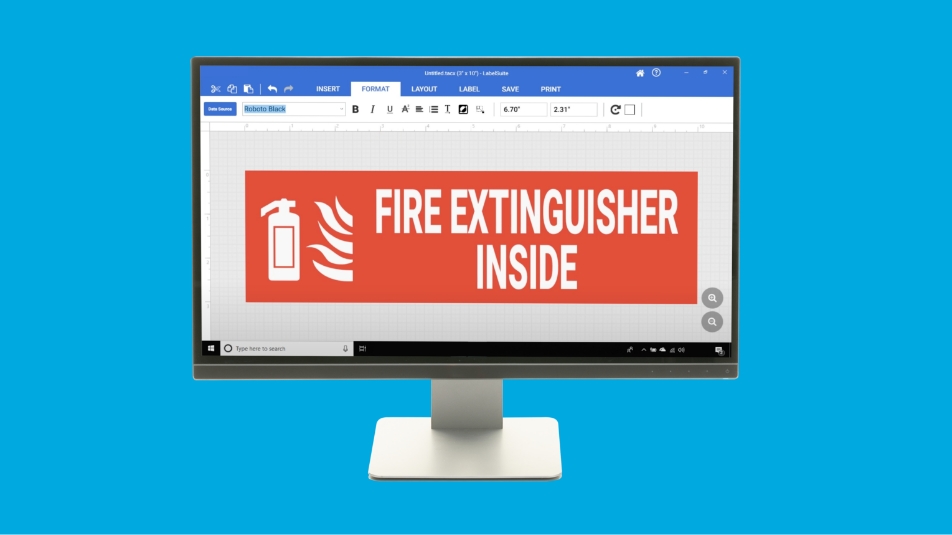 LabelSuite™ design software
Discover a user-friendly interface, a huge library of templates, and integrated labeling design assistants for the ease and customization it takes to succeed.
Get your free safety signage sample pack
See everything on-demand safety labeling can help you do with your own sample pack. Get over a dozen high-res printed label samples in a variety of colors. And experience label durability made for industrial environments firsthand.